Poultry
---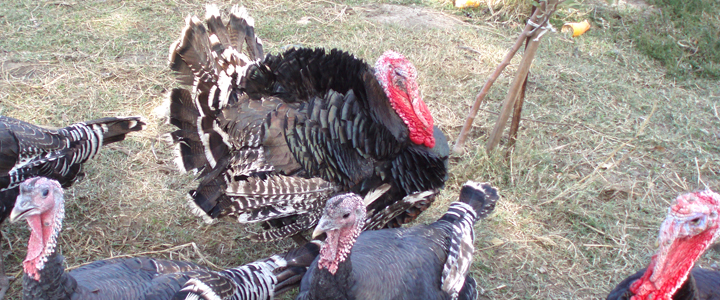 Turkeys -Lone Willow Ranch- gobble gobble!
Turkeys - We start our turkeys in early March to be ready by Thanksgiving. We raise broad breasted heritage turkeys. The males can end up weighing 40 lbs dressed. Pick up at the ranch only.
We started raising turkeys a few years ago and found them to be very enjoyable. We get them when they are just a day old.  We have to be very careful in their care the first few weeks; we have to teach them how to eat and drink. It is very important that they have a safe and warm environment. Once they are old enough we take them to the pasture so they can get plenty of sun, air and exercise.   They are feed the excess milk and produce from the farm.  They love tomatoes but we make sure they get top quality organic grain that we grow on the ranch as well. The turkeys can weigh as much as 40 pounds once finished.  We only raise a small flock so if you are interested in purchasing one of our wonderful birds for Thanksgiving please contact us at lonewillow@aol.com or Shelby@organicheirlooms.com  

Chickens
We raise chickens for two reasons number one being they produce the best tasting eggs when they are out in open pastures doing what chickens do.  The eggs are large and have a beautiful color.  The eggs from our chickens enhance any dish .The second reason is they fertilize   the fields.  We have our chicken in a mobile coup that gets moved every week. The chicken s cleans up the area and leave behind good fertilizer for the crops coming in after them. We sell the free range pastured eggs for $5.00 per dozen at the Firebaugh's farmers market. Please contact us if you are interested in purchasing eggs.