What we are about...
---
Lone Willow Ranch
Lone Willow Ranch sets 4 miles North of Firebaugh along the San Joaquin River in California. Lone Willow Ranch is owned and operated by John M. Teixeira. The ranch has been CCOF certified for the past twenty years.
Firebaugh is a small rural farm town next to the San Joaquin River. The river starts in the Sierra Nevada mountains and runs north through California. The town of Firebaugh gets it name from a Ferry Boat operator Andrew D. Firebaugh. He operated the ferry to move livestock and grains across the river. Lone Willow Ranch gets it name from the Lone Willow Slough that runs next to the San Joaquin River. The San Joaquin River is home for a large assortment of wildlife. On any given day one can see Raccoons, Squirrels, Snakes, Turtles, Foxes, and Coyotes and is a bird watcher heaven with 100's of birds. Fishing has always been a favorite past time for those that visit the river and recently the salmon are in the river again. All the wildlife at the river contributes to the Eco-System on the farm. The Hawks and Owls help keep the gofer population in check. For healthy pest management we planted a native hedgerow. The hedgerow is home for many beneficial insect and wildlife. We believe in working with nature and nature will work with you.
When Lone Willow Ranch was established late 1980's the first organic crop was cotton. The organic cotton started a passion in organics; we then planted fruit trees, row crops for vegetables, herbs, heirloom tomatoes, vegetable transplants, and now raising pastured livestock. We have select heritage breeds of turkeys, pigs, chicken and goats. We now have over 80 acres in production for the pasture livestock. We grow our food for our self as well for our animals. We grow all organic alfalfa, dry deans, wheat and sunflower to supplement the feed for our livestock.
To ensure we are growing the best feed we begin, with rotating our crops, planting cover crops, and working the soil with compost and rock dust. We use the Control Microbial Composting method. (CMC). with this method, we increase the diversity of the bacterial fungi and yeast. Feeding the micros organisms is key to fertility. The micros interact with the soil and plant biology to cycle and retain the nutrients, which improve soil structure and suppress diseases.
Our ranch is devoted to growing and raising healthy organic crops, livestock and seeds, for our families, community and region. Our carefully crafted organic systems are designed to assure the sustainability of our soil, water, and environment to last for future generations.
The Lone Willow Advantage
Lone Willow is CCOF Certified Organic Since 1991
USDA Certified organic.
Delivery system in place.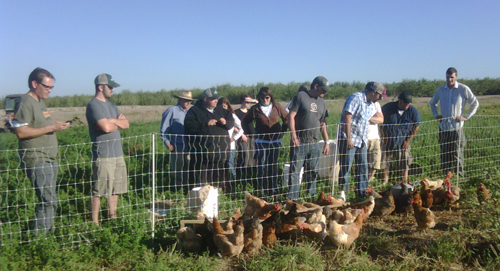 A few delightful folks from the Santa Rosa Whole Foods store came down last summer to visit our farm and observe how we do things around the ranch.
We had a wonderful time showing them our extensively varied production of tomatoes, varieties of sweet melons, peppers, many different beans, radishes, lettuce, cabbage, kale, onions, garlic, gourds, etc.
The delegation also enjoyed our fruit trees - cherries, pears, pomegranates, apricots, peaches, nectarines, and apples - our nut trees - walnuts and pecans - all of our goats, pigs, turkeys, chickens (and bees) and we showed them how we raise them all on our own pasture, with alfalfa and varied grains - barley, oats, sunflower seeds, wheat, and corn - all for them, and, often mixed with our plentiful goat whey, all grown, raised, or produced on the farm. These animals are true locavores and would not have it any other way!
All of our goats are great milk producers and we have been refining our cheese making skills in the past couple of years. We will eventually have a creamery and, god willing, will make the best goat cheese in the west!