Honey Bees
---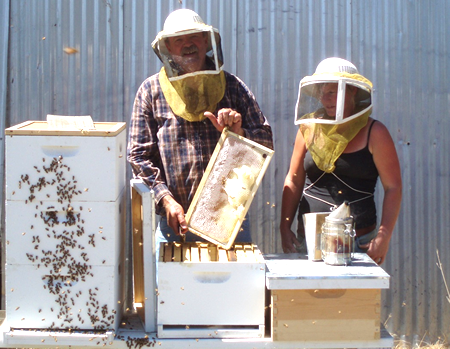 The River Bottom Honey Project started out as something to do in the winter. Jim Ledford and I began construction the bee boxes getting ready for spring.
We had an idea to get some to start producing honey for making our jams and for other uses. Our river bottom location is very unique there is always something blooming plus in the summer time we have crops flowering continually. The sunflowers were just wild with pollen. We have five hives; they produce over 25 gallons of sweet honey the first year.  We taught our interns about raising healthy bee hives, extracting honey, and cleaning frames. We used earthy oil product to protect the hives.
All along the river there is, cotton wood trees, willows, yellow sweet clover, Russian thistle, primrose, wild rose with a pretty pink flowers. From the farm the bees enjoy lavender, basil, sweet corn, the 15 types of fruit trees and all of the produce we grow seasonally.
In the future we will sell at the Firebaugh Farmers Market Thursday night in small half and one pound jars, and on the internet.